showcase your skills, not an affiliate code
Get a dedicated partner landing page with lifetime commissions.
No Affiliate Link Required
Some people are extremely good at spotting an affiliate link. They hover over the link and look at the URL in the browser bar. This is very common; people like to know where a link is taking them.
Some affiliate links can look sketchy, especially when they are packed with query strings or random characters (which is why we use names). Some people simply don't like clicking on affiliate links at all, knowing that someone is going to earn a commission when they make a purchase.
When a potential customer chooses not to click your affiliate link, it means a missed sale for you. Potential customers are more likely to click a standard link before completing their purchase.
Once accepted for Partner Landing Pages, support creates a clone of the wpSites SignUp page, and assigns you as the Partner. After that, you send your prospects and clients to sign up on your dedicated partner landing page.
How do Partner Landing Pages Work?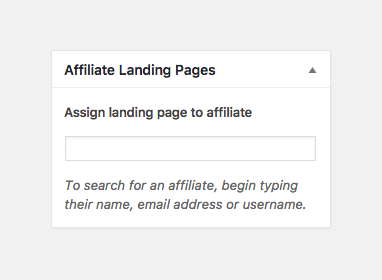 Our team can assign any page or a post to a partner via a metabox.
Once the landing page is assigned to a partner, the partner can then promote the landing page's URL without needing to use an affiliate link to set their attribution.
When a potential customer clicks your link and arrives on your dedicated landing page on wpSites, your partner affiliate ID is stored in a cookie for 180 days. When the customer purchases, you receive a 20% commission.
Attribution expires at 180 days. So get your clients signed up and upgraded to a paid service or subscription as quickly as possible. That'll lock in your commission.
Earn Lifetime Commissions, Automatically
All customers signed up via Partner Landing Pages are automatically assigned to the partner for Lifetime Commissions.
Once a partner and a customer are linked, the partner is awarded a commission even if the customer clears their browser cookies or uses a different computer. The attribution is never lost because we set it in their account.
When a customer clicks on a partner's landing page URL and then makes a purchase from wpsites, they're instantly linked. When the customer returns to make another purchase on wpsites, the partner receives a commission, even if they visit wpsites directly.
Note: A customer can only be linked to one partner at a time. Refer to our Partner Program Affiliate Agreement for details.
Are you eligible for dedicated Partner Landing Pages?
Sales Partners and Certified Partners in good standing are eligible to have dedicated landing pages. Simply complete the 'Request Partner Landing Pages' form below to get started.
Request Partner Landing Pages now.