Should I Use Ai-assisted Copywriting Tools?
When I'm stuck in a content rut, it can be helpful to get an outside perspective. That usually means engaging a copywriter, briefing them, and awaiting their first draft. Today, I have another option: ai-assisted copywriting. Ai helps me get my content going and improve my website's SEO at the same time.
So how do ai-assisted copywriting tools work?
It's pretty easy, actually. I provide the tool with a briefing. It then analyzes it against other top content on the web. From there, it drafts original content based on what it has read. The initial draft needs some fine-tuning to get it on message. But the bones are there. If it's not quite right, I'll update my briefing and push the button to re-draft it. Having learned how to brief the Ai through trial and error, the rough drafts have gotten better.
Ai-assisted copywriting tools are data-driven writing tools that can help you understand your audience and what type of content they prefer. These tools can use data from your website or Google Analytics to provide you with insights into what kind of content is most popular with your audience.

– Generated by JasperAI, Optimized by INKai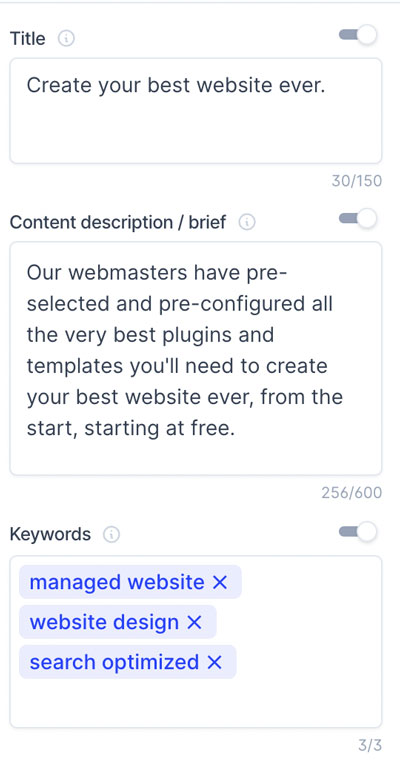 Here are six ways ai-assisted copywriting tools have helped me:
1. Improved my website's SEO, because it prompts me to be more complete and on-topic.
An important factor in website success is optimizing my content for search engines. Using an ai-assisted copywriting tool has helped me fine-tune my content to improve my SEO.
Most ai tools understand SEO best practices and prompt me to edit. They may also check grammar, and mood, depending on which tool I am using. I've listed a few of my favourites below.
2. Saves content creation time, by hinting at info to include.
Copywriting can be a time-consuming task. Using an AI tool can help me save time by automating some of the work.
For example, I wrote three articles last week for three different websites. Each article took approx 45 minutes from start to finish. Without ai, I'll draft articles in perhaps 30 minutes. Using ai, I was able to do the three drafts in under 15 minutes each.
That gets me to edit quicker. The turnaround can be quick.
3. Get better search engine results, because once refined, it's more accurate to what people look for.
When I use AI tools, I can discover keywords, related topics, and more, all within the app. Then adjust accordingly.
4. Improved my skills as a content creator, as through the process, I learn to write better.
I began my career as a designer. Still, 500+ posts and 5 books somehow happened. I still don't consider myself a writer because I had the help of professional editors along the way.
If you're not a natural-born writer, an ai-assisted copywriting tool can guide you to improve your writing and editing skills. Because, even though ai is drafting the content, you are still in control, still editing. It's still your content.
5. Helped me to streamline my workflow, by reducing distraction.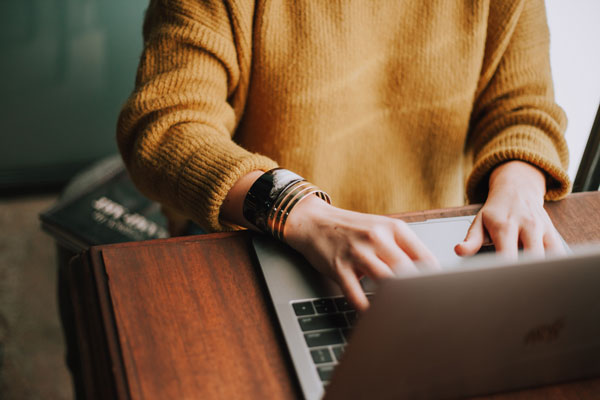 A good copywriting workflow is essential to getting it done. An ai tool can take a lot of the guesswork out of content writing.
My content creation and copywriting workflow goes like this:
Draft my article (get it down via pen, keyboard, voice recorder, or Jasper ai)
NEW: Check for invisible characters (some ai tools insert characters and some search engines scan for them, alerting them to ai content. Source view should suffice.)
Pop my draft into Hemingway Editor (simplify to improve first-read comprehension)
Pop it into INKai (improve search engine optimization, emotional intelligence, power words)
If in WordPress, fine-tune with RankMathSEO ai (on-page scoring)
Add images, and publish!
There are many AI-assisted copywriting tools. It's important to do your research and find one that will work best for you and your website. My preferred ai content tools are:
6. Ai-assisted copywriting tools have helped me to avoid writer's block
Writer's block is a real problem for many people. Using ai copywriting tools has helped keep my writing flowing.
When I'm not 100% sure what to write, ai-assisted writing tools can help me brainstorm ideas. Ai can provide me with a list of potential topics and keywords to use. Ai takes the guesswork out of writing for SEO. Ai has helped me produce content that is both helpful and optimized for search engines.
In fact, about 50% of this article is ai-generated. Content writing is no longer a chore. With ai tools, a topic, and a workflow, I don't get stressed about creating content anymore.
It's important to remind myself that no AI tool can replace the creativity and expertise of a human. I edit every part of ai-generated content.
While ai can be a valuable tool in my content toolbox. It's just that. A tool. Without a human to operate it, a tool can be pretty useless.
My preferred ai software: