The WordPress Media library holds all your images, PDFs, and even video/audio* files. When uploading a new image, remember to add an ALT tag to support your search engine optimization efforts.
Image sizes: #
You can use whatever size you wish. However, our recommendations are:
Desktop header images 1920px by the desired height
Mobile header images 600x by the desired height
Blog image size varies, though 1500x700px (16:9) works well
Featured images 1200x800px (good for Facebook/Twitter)
In a 2-column layout, 50% of width by the desired height
In a 3-column layout, 33% of width by the desired height
In a 4-column layout, 25% of width by the desired height
Minimum image width for mobile view shoud be 400px.
Image tips: #
Focal Point: Take a look at the image of the coffee mug below. Note where the mug is positioned in the photo. It's the main thing that captures your attention. The mug is the focal point for that image.
Rule of Thirds: Now, look at the grid lines we drew on it. Where the lines intersect to form crosshairs is usually where you want the focal point to be (or your subject). On most websites, headlines typically go to the lower left or are centered so your focal point can appear on the opposite side or behind it.
Composition: Clean uncluttered images are often the most powerful because viewers see what you want them to see, quickly. Consider placing text in/over neutral areas, where the words don't have to compete with objects or colors in the image.
Layering: Should your image be busy, consider using a color overlay and white text. This will have the effect of creating a background texture with more emphasis on your text.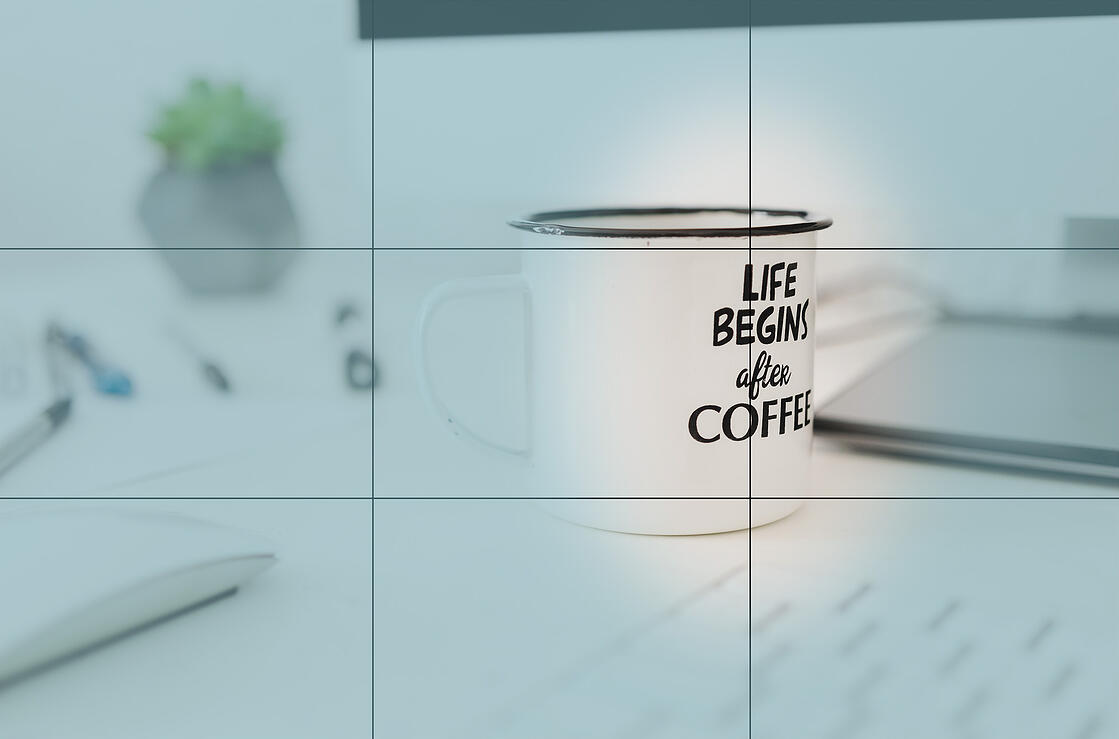 Free image resources (no affiliation with wpSites or Kayak Marketing. Use at your own discretion.)
*We recommend you upload videos to Youtube (public) or Vimeo (private), or a similar service. These services are powerful and made to deliver large rich media files to viewers. Websites simply don't have the power – or the storage capacity – to do this well. For audio, consider SoundCloud or a similar service. Video and Audio services provide you with embed codes (or URLs) you can paste into your site in dedicated blocks, and in the absence of dedicated blocks, paste into an HTML block. (No affiliation with us. Use at your own discretion.)